STUDIO POLICY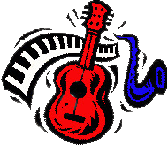 A little heart to heart: I have spoken with many of my present students and/or their parents regarding what a studio policy should be or not. At least one point was made by each of them: It's very important that the student and the teacher make a commitment to each other. Both parties must gracefully adhere to their personal commitment and be responsible and courteous towards each other. Yes, there will be times when we'll have to make a change of schedule due to our busy life styles: performances, sports, etc. : we can make it work. However, the student/teacher team cannot exist without an honorable respect for each other.
Dan Johnson
CURRENT TUITION RATES: $24.00 per 1/2 hour lesson. Rates subject to change upon notice.

DISCOUNT LESSONS: Seniors 65 yrs and older receive a 10% discount. Families with three or more children studying with Danyo Music Studio a receive 15% discount.
TWO-FER OFFER: A parent with a child 10 yrs and younger may study with the child at no additional cost. This is a great way to promote family togetherness and overcome the TV and and whatever the new video game rage might be.
GENERAL CALENDAR
Lessons will, as a rule, be held during the weeks of Jefferson County Public School's scheduled holidays. There will be no lessons held on Thanksgiving day, Christmas day, Memorial Day or Labor Day.

Lessons will be held on the various Monday holidays through out the year, i.e. Yom Kippur, Columbus Day, Martin Luther King Day, President's Day, etc. unless the student notifies me that they plan on being away. If you must reschedule due to religious observances, please give advanced notice.
Summer trimester lessons are also scheduled on an individual basis but are normally more flexible as to time and day. Students are encouraged to continue their studies into the summer. Usually, there will be a small break for my summer activities.
MISSED LESSONS
Definition - Missed lesson: any scheduled lesson that is unattended for any reason to include the inability to reschedule a lesson for personal convenience where it is warranted.
24 hours advanced notification of a cancellation is appreciated in order to reschedule a lesson. In the event that a student will be unable to attend a scheduled lesson, I am more than willing to schedule a different time within that same business week as space is available. If an agreed upon rescheduled lesson time cannot be found, that lesson shall be considered a missed lesson.
There are no refunds or credits for missed lessons. The expectation for the teacher and the student is that we adhere to our agreed upon scheduling. The time frame window for teaching is quite narrow. In order for my service to continue to be made available to you, this teaching window must be maximized. A make-up lesson for one that is missed is, in effect, twice the time value of a regularly scheduled one. No one has a monopoly on a busy schedule. If you have made the choice to study music, then that is what is expected of you.
Lessons other than weekly: There are times when customers wish to have lessons that are not weekly for various reasons. When a customer is not scheduled on a weekly basis, these lessons shall be scheduled only in a time slot where there no request to schedule a weekly student.
Teacher's absence: As I am called upon to perform at various times, I will sometimes be required to reschedule a lesson. This is usually in the earlier part of the afternoon. For this reason, I try to schedule my lessons in the early evenings. I will schedule after school times which I know are more convenient for many but I ask that I be given the flexibility to move these lessons should I have to make a performance. I treat my teaching schedule as PRIORITY #1. I will always give ample notice of any unavailability on my part. If I become ill, I will reschedule any lessons not attended if the student would like.
SNOW CANCELLATION
Let common sense prevail! If it is perceived that there is too much danger to drive during snowy conditions, please call and the lesson will be rescheduled during that business week or postponed to the next week. The teacher will be prepared to stand by his lesson schedule regardless of weather conditions.
DISMISSAL
A student may be dismissed for non-payment, excessive absences, lack of progress or unacceptable behavior.
It is a privilege to attend music lessons in a quiet, pleasant atmosphere with easy access to musical resources, teaching aids and recordings. My studio is much better equiped than that of one that must be rented from a music store and rented by the lesson. The following guidelines are necessary to maintain the integrity of the studio and to provide a peaceful teaching and learning environment for both the teacher and student:
The safety of all of our children is important! The teacher will not accept any children as students without first having met with one or both of their parents. Every student's parent must be acquainted with the teacher and feel comfortable with a child's attending music classes.
Due to insurance and zoning restrictions, only the student attending and their parent or guardian should enter at a time. Only siblings who have back-to-back lessons may wait quietly in the designated waiting area.
If you are a parent with a beginner, you are always invited to sit in on the lesson. However, unless you and your child are studying together, it is vital that you do not interrupt the lesson. Comments are welcomed after the lesson.
DO NOT BRING FOOD OR DRINK.
Please ask should you need to use the telephone.
Drop off and pick-up children on time. There is plenty of parking space in front of my home studio and the cul-de-sac makes it convenient for turning around. The neighbors are wonderful people so please come and leave quietly.
I have provided a variety of music books for anyone waiting. Please take a look at them as they are there for your enjoyment.
TERMS AND CONDITIONS
By enrolling yourself or your child as a student of Dan Johnson (Danyo Music Studio), you agree to abide by the terms of this studio policy.