GUITAR

The study of the guitar can take many roads as there are many styles available. At Danyo Music StudIo, the emphasis is not placed immediately upon style. For the beginning student, the course of study will move through many elementary elements and gradually progress to more difficult and interesting areas that pertain to style. Since private study is a custom designed program for each individual student, there must be much respectable interaction between student and teacher. Musical skill that progresses to its next higher level is the product of a good balance between hard work and a lot of fun.
EMPHASIS OF STUDY:
ELEMENTARY STUDIES
BLUES, FOLK, CLASSICAL, ROCK, COUNTRY & BLUEGRASS STYLES
THE STUDY OF READING MUSIC: NOTATION/TABLATURE
THE INSTRUMENT: PLAYING IN A BAND
FINGER BOARD THEORY: SCALES, CHORDS, ARPEGGIOS
HISTORY OF THE INSTRUMENT/FAMOUS PLAYER
EFFECTS: WHAT ARE THEY? HOW THEY'RE USED!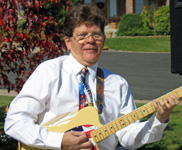 | | | | |
| --- | --- | --- | --- |
| EASY PICK STYLE | CHORDS | PICK STYLE, FAST PACED | CLASSICAL STYLE |
| GREAT METHOD FOR MANY YEARS | SUPPLEMENT TO METHODS | SERIOUS, SERIOUS, SERIOUS | INTRO TO CLASSICAL STYLE |