DECEMBER'S CHILDREN
December's Children, A.K.A Where It's At, was a group in which I played lead guitar and sang. The instrumentation for this group was Hammond B3, bass, drums, guitar and lead singer. Mitch Cowen was the band's leader and organist. About mid 1966, we signed with Columbia records and produced a 45 rpm record with "Somethin' Fresh" as the A-side. The B-side was "The Twelth of Never", a remake of the Johnny Mathis hit. Our lead vocalist was a very good singer and did a good rendition of the Mathis tune.
We played in and around L.A. and enjoyed the Hollywood scene of the era. The flower children were everywhere. Late that year, we had the opportunity to appear on the hit TV show: WHERE THE ACTION IS. We were filmed in large park in Los Angeles in with an old steam train as a back drop. I only got to see a few clips of the show as it was only a few weeks after the filming that Uncle Sam decided that I should do other business. I finally found a copy of the video after only 43 years of wondering and searching. Watch it below.
Here's some information about our appearance on the TV show
WHERE THE ACTION IS:
Score: 7.1-Good
Episode # 371, Season 3, First Aired: December 2, 1966
HEADLINERS
DECEMBER'S CHILDREN: "SOMETHIN' FRESH"
PETER AND GORDON: "LADY GODIVA"
TOMMY ROE: "RUN RUN LOOK AND SEE"
CAST AND CREW
Dick Clark (himself, announcer), Kieth Allison (himself), Mark Lindsay (himself, lead singer: Paul Revere and the Raiders), Charlie O'donnell (announcer), Linda Scott (herself), Eddie Rambeau (himself), Paul Revere (himself), Phil "Fang" Volk (himself, Bassist: PR&R), Drake Levin (himself, lead guitar: PR&R), Michael Smith (himself), The Knickerbockers (Sub-House band-1966), Steve Alaimo (himself), Tina Mason (herself), The Hard Times (Sub-House band: 1966-67), The Robbs (Sub-House band: 1966), Paul Revere and the Raiders (The House Band: 1965-67), Jimmy Hibbard (Dancer: 1965-67), The Action Kids (themselves-Dance Troupe).
The theme song, "Action" for this series was sung by Freddy "Boom Boom" Cannon and peaked at #13 on the charts in September, 1965. You might remember Freddy Cannon for his tune "Tallahassee Lassie". I can't forget this song as Mr. Cannon came through Denver in 1965 and the band Denver's Own Wildones backed him at the old Trocadero Ballroom which was located at the original Eliches Gardens recreation park.

Somethin' Fresh Video
Keith Allison doing Introduction
It was also during this period that I had the opportunity to study guitar with Irving Ashby. Here's his wikipedia article: " Irving Ashby (born 29 December 1920; died 22 April 1987) was an American jazz guitarist. After playing rhythm guitar in Lionel Hampton's orchestra, he played in the Nat King Cole Trio from 1947 to 1951. He then briefly replaced Charlie Wilson, a drummer, in the Oscar Peterson Trio, producing a lineup (piano, guitar, bass) similar to the Cole Trio's; the substitution of a guitarist for a drummer continued until 1958. After leaving the Peterson Trio, Ashby concentrated on recording session work." You can read more about him at Classic Jazz Guitar. com.
Other than the video, I'll have to dig to find any pictures. Somehow, one's history is not as paramount when its happening as it is years later. Anything is possible!
We had just about burned out our welcome before the draft took all of us. I was left holding the bag for the rent on our motel which was located next to the Capitol Records building. One night we all ended up having a party out by the swimming pool. One of the guys that was living at the motel and partying with us was the jazz drummer Elvin Jones.
As this was 1966, I'm guessing that he was at that time a member of the John Coltrane Quartet. As I remember, he liked his whisky. Even though he was getting pretty tight on that night, he was still very much a gentleman to me and I enjoyed his company.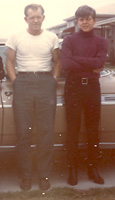 Although I don't have any pictures of the band, this one was taken on Easter Sunday of 1966 while I was with the group and was at home for the holiday.