CHROME PONY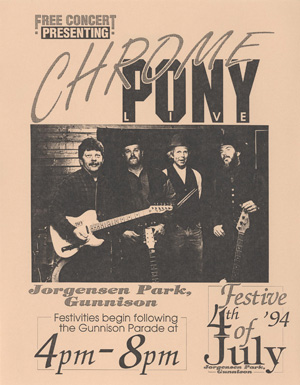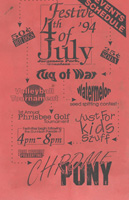 Chrome Pony was a band that I felt had a lot of potential. All of the guys in the original setting worked real hard at making things work. David, our bass player, would drive into Gunnison from Lake City-braving all the deer on the road. Of all the guys in the band, Dave was probably the most improved of the lot. Dave was a ranch manager.
Lee was a good country singer and the girls just thought he was the best-and he was! He worked as a Sheriff for the County of Gunnison.
Josh Tidd, the drummer dude, still see each other once a year when I go hunting in Gunnison. Josh knows how to back up a vocal band very nicely. Presently, he and his wive, Margaret, work at the Gunnison Hospital. He also plays marimba and sings quite well.
In 1995, I had to go and be OIC of Rocky Ford with the USPS. There was another gentleman, Ricky Pruitte, that took my place while I was gone. Ricky has played with a bunch of groups around Gunnison over the years.
Lee was transferred to the ends of the earth and we took on Chuck Farnsworth as one of the vocalists. We morfed into Rimfire.