BAKER STREET REGULARS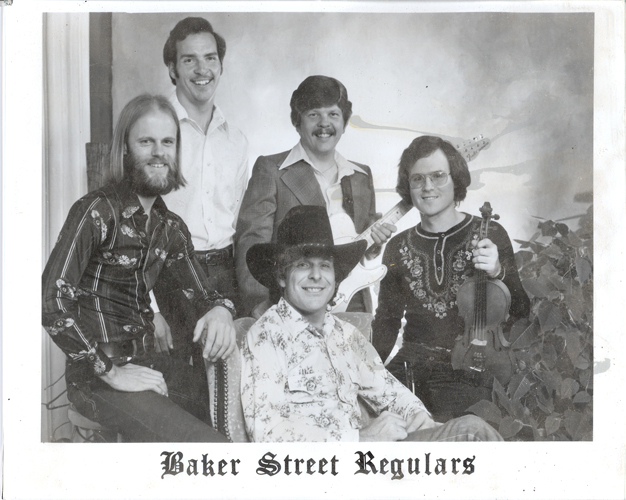 The Baker Street Regulars was really quit an accomplished group of musicians. Mark, our rhythm guitar/fiddle player lived down the block from me in East Denver and as I recall started to take lessons with me. He was an engineer by trade and progressed so rapidly that I invited him to join me by being my rhythm player. Dave white, piano, was one of my students at Central High School in Aurora, CO and for a senior in HS, he was killer on the keys. Josh Filley, bass, was and still is a very accomplished musician around the Denver area. Most recently, I had the privilidge to hear him perform on string bass in Evergreen and at one of the Kool-105 concerts. Our drummer whose name I can't recall could lay down a fantastic back beat that complimented Josh's bass. He replaced our original drummer, Wolf Kroekel, who had been with Squad-4, a local band made up of Denver police officers. I'm in the middle with the Telecaster.
Our style morphed into the "Concrete Cowboy" style of the latet 70s and early 80s. Additionally, we did a lot of the old rock and roll tunes as requested. Vocally, we cut a mean 3 part background against the lead vocalist.
We switched some players around as people went their own direction. Our drummer had the chance to go on the road with a well known group, John the pianist took off for college, and I got too involved with my postal career and we finally called it quits after about four years. I'll try to add some more pictures as I am able.