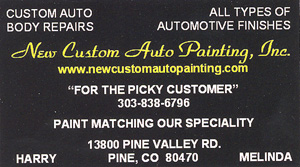 Look for some pictures of the Corvette paint/body restoration as I have time to get all of the pics scanned and sized.
Harry: Thanks for a GREAT job on my car. The detail work was just what I wanted. I look forward to our next project on the Peugeot.
For those of you reading, give Harry a call if you want the best. No, don't walk in and ask for a discount price because Harry doesn't do discount work. He does it correctly. I add these comments because some years ago I asked an automotive contracter to repair my door glass. The guy couldn't do the job! Harry took on the challange and now my 35year old doors work and sound LIKE NEW! I couldn't be more satisfied!!!
The project was a long one due to the amount of detail work and winter road conditions. A premium was placed on detail so speed was not of the essence. As with the arrangement of a musical piece that one wants to please the ear, Harry orchestrated the fine tuning of my automobile. The "movements" were as follows: STRIPPING, FIBERGLASS REPAIR, PAINT, COCKPIT SEALS and DOORS.